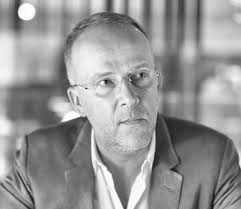 Born in 1968 and bought his first Leica when he was fourteen years old. Ever since then, his fascination of this unique camera has never left him.
After finishing his law degree, he dedicated himself entirely to Leica. He has been the vice president of the Leica Historical Society since 1993, and in 1996 he opened the specialist retail venue,
Lars Netopil Classic Cameras in Wetzlar (Leica Store Wetzlar Old-town). In addition to his work within the international Leica collectors market, he is also a consultant for Leica museums all over the world.
Since 1999, he has been in an advisory position for Leica Camera AG and the company's Historical Archive and Museum Department.
Extract from the LEICA HISTORICA magazine VIDOM 110 - 12/2015

Leitz designer Adam Wagner (Fig. 1), who returned ON FOOT from Karlsbad to Wetzlar after the end of the war, resumed his work in the Leitz photo construction department in June 1945.

Important developments by Adam Wagner included the "f" -type flash synchronization, the Leicavit rapid winder, the Leica IIIg, components of the Stemar 3.3 cm stereo system and the Leica MP2.

Read more...